"Life isn't about waiting for the storm to pass… It's about learning to dance in the rain."
– Vivian Greene

Wellness Tip:
Ease Stress With the Physiological Sigh
How can you relieve stress in real time? I.e. Calm yourself quickly, without having to step away from the stressful situation?
According to Dr. Andrew Huberman, you can use the "physiological sigh" – a technique discovered all the way back in the 1930s. 
To do it, just take two inhales through the nose (the first one is typically longer, says Huberman, but the second one is also important) followed by an exhale through the mouth.
Check out this clip to find out more about the science behind it. Willing to give it a try?

Productivity Tip:
Streamline Your Social Media
Whether you're marketing a business, building a personal brand, or even just sharing life updates, one thing is for sure: social media can suck up a lot of time.
Thankfully, there are plenty of tools out there to help you streamline it, like:
All of the above can be used for free. So, if you're a regular on social, give some a try.

Routine Breakdown
Thalita Ferraz, Creator/Editor of Her Bones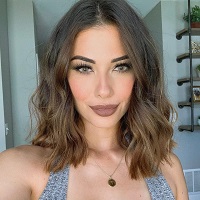 Style influencer and mother Thalita Ferraz says her routine starts the night before: "I make sure that my spaces are tidy and set up for the next day." In the morning, she:
Makes her bed 

Drinks water and listens to music. "Most importantly, I stay off my phone until I've finished my drink."

Creates a breakfast that she's excited about. "This is very tasty self-care."

Takes her time on her skincare routine. "Rushing puts me in a bad headspace."

Thinks about or writes out her goals for the day, and thinks about everything that she achieved the previous day.
Why it works:
Making the bed

lets us

start the day with an accomplishment—and a tidy space.

Small rituals—like mindfully drinking water, preparing breakfast, or doing a skincare routine—create a "buffer against uncertainty and anxiety,"

say researchers

. 

Reflecting on achievements

boosts

our confidence and motivation, while writing down goals makes us

more likely

to achieve them.
Does rushing in the morning put you in a bad headspace? If you can relate to Thalita's comment, perhaps try getting up a bit earlier so you can slow down and enjoy your morning rituals. Tell us what works for you!