"Almost everything will work again if you unplug it for a few minutes, including you."
– Author, Anne Lamott

Wellness Tip:
Bust These Exercise Myths
Exercise is normal, sitting is killing us, and you're lazy if you take the escalator. Right?
Wrong. Here, Harvard professor of evolutionary biology Daniel E Lieberman busts some major exercise myths. And they may surprise you. According to Lieberman:
Avoiding exertion doesn't make you lazy – it's a natural instinct.

Sitting for 10 hours a day is normal in every culture. (Just be sure to

get up

.) 

No, running

won't

wear out your knees, as long as you train sensibly.

Our ancestors weren't as strong and fast as we think. "It is neither normal nor necessary to be ultra-fit and ultra-strong."
The helpful thing about busting these myths is that we can learn to work with our natural situation rather than struggle against it. 
Read more here, and remember: even a little exercise is better than none.

Productivity Tip:
Schedule Your Meal Breaks
Is taking a proper lunch break high on your list of priorities today? Because it should be!
Food is fuel – not just for our bodies, but for our brains. That's why productivity and decision-making suffer when our stomachs are rumbling and blood sugar is low.
Problem is, urgent tasks get in the way. So here's a simple solution: schedule in your meal breaks. Block out time in your calendar for them. Treat them with the same importance as you would a meeting with a client or your boss. 
Even better: as Ruchika Tulshyan argues in a piece for HBR, make your breaks visible as well. That way you're helping to make break-taking an accepted part of company culture. 👊
So, what time is your lunch break scheduled for today?

Routine Breakdown
Shona Vertue, Author, Personal Trainer & Under Armour Ambassador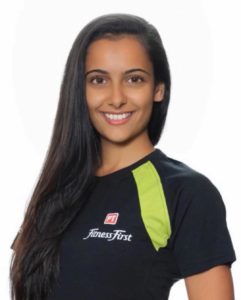 "I almost feel anxious when I sleep in," says early riser Shona Vertue. She:
Wakes between 5 and 6 am.

Does 20 minutes of Vedic meditation. "It's very committed and structured, and I use a mantra that's completely secret and personal to me."

Puts on gym gear straight away. "I like to just eliminate the decision-making processes as much as possible in the morning."

Goes to the gym or for a walk/run then has breakfast afterward.
Why it works:
There's

so much research

showing the benefits of meditation on mind and body.

Here

's more info about Vedic meditation specifically.

Limiting choices is a great way to avoid

decision fatigue

.

Exercise is obviously good, but should you do it fasted or fed? Research so far

seems to suggest

it doesn't make much difference – so do what feels best for you!
Whether you walk or swim, work out alone or in a class, train before or after breakfast, etc. – the choice is yours. Ultimately, the best workout is the one you do!
Do you have any strategies for fitting exercise into your day?