"You miss 100% of the shots you don't take."
– Wayne Gretzky

Wellness Tip:
Learn How To Deal With Negative Triggers
We all have triggers. Things that set off a wave of negative emotions, like anger or anxiety. 
Understanding what your triggers are and why they occur can help you deal with them in the moment and change your emotional state for the better. Try these steps:
Identify what you're feeling. Find the closest word possible to describe it.

Analyze the trigger to work out what needs aren't being met. See the list

here

.

Then, find a way to shift your emotional state. It could be going for a walk, doing a breathing exercise or meditating. Find what works best for you.
It's worth giving this post a read for more detail. Let us know how it works for you.

Productivity Tip:
Design Your Environment for Better Mornings
We all know healthy mornings kick off productive days, but it can be hard to break those not-so-productive morning habits (hello, infinite scroll). One thing to try is making small changes to your environment that nudge you into better morning habits.
Try:
Keeping your phone away from the bed so it's not the first thing you reach for

Keeping water next to the bed instead

Laying out your walking shoes/workout gear the night before

Keeping a healthy breakfast handy on the bench/in the fridge

Giving your workspace a quick tidy-up the night before so you can jump into some journaling or focused work
A good way to think about it is to write out your goals and then look at how you can change your environment to make those goals easier. What can you do for better mornings?

Routine Breakdown
Dr. Mark Hyman, Longevity Expert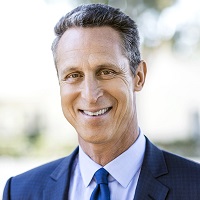 At 63, Dr. Mark Hyman says his biological age (based on markers of cellular health) is 43. He credits healthy living. Here's his morning routine:
Wakes at 6 am and meditates for 20 minutes.

Has coffee and sits down to some dedicated writing time.

Does a 30-min strength training routine with resistance bands. He says this has helped him build muscle and reduce back pain. He also tries to hike or bike throughout the day. ​​"My happy place is about three hours of exercise a day."

Does a cold plunge, staying in 40-degree water for three minutes.

Has a "healthy aging shake" combining plant nutrients and healthy fats from ingredients like berries, chia seeds, and hemp seeds.
Why it works:
Have you tried resistance bands? They're great when you need something portable – why not take them to your local park and do your workout outdoors?