"Acceleration is overrated. Persistence, good directions and a reliable vehicle almost always beat horsepower."
– Seth Godin delivers truth in the form of traffic metaphors.

Wellness Tip:
Avoid the Arrival Fallacy
Ever feel like you'll finally be happy once you earn so much money or lose a certain amount of weight? News flash: you probably won't. You'll adapt and start chasing the next goal.
"Arrival fallacy is this illusion that…once we attain our goal or reach our destination, we will reach lasting happiness," says psychologist Tal Ben-Shahar. So, should we give up on having goals? Absolutely not! It's just about focusing on the right things. 
"Lay out multiple concurrent goals, both in and out of your work life," says Ben-Shahar. That way you're not, say, so focused on your career goal that you neglect your relationships.
Here's a three-step approach to avoiding the arrival fallacy that can help. Give it a read!

Productivity Tip:
Use The 5-Hour Rule
Bill Gates, Warren Buffett, Oprah Winfrey, Elon Musk, Jack Ma… Forget T.V. The richest people in the world spend at least an hour a day, five days a week, reading and learning. This habit is known as the 5-hour rule, and it has three components: 
Read. Read before bed. Carry a book with you and crack it open whenever you're stuck in a queue. Listen to audiobooks and podcasts while on the go. 
Reflect. What have you learned? What are you doing right? What could you do better? Panda Planner has daily, weekly and monthly review sections for this, so give those a try!
Experiment. Try out ideas, apply what you've learned, and stay curious.
Find out more here, and tell us: what are you currently reading? 🤔

Routine Breakdown
Maria Shriver, Journalist, Author & Entrepreneur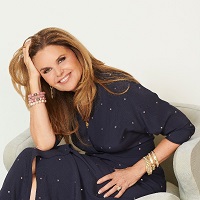 Mother of four, NBC News special anchor, best-selling author, philanthropist… As if all that wasn't enough, Maria Shriver recently co-founded MOSH—a mission-driven brain health and wellness company. How does she do it? She told us it's all about mindset. She:  
Does a morning "centering practice" to start the day in a positive mindset. This involves three key things: prayer/gratitude practice, meditation ("10 minutes of silence and stillness"), and expressive writing to expel any negative thoughts. 

Does some light aerobic exercise. "I try to exercise twice a day because movement always boosts my mood. In the evening, I hop on my bike or go for a walk with the dogs. The fresh air also helps to clear my head and reset my outlook."

Has a vitamin-rich breakfast to keep her sharp and energetic. "My morning exercise is followed by a nourishing breakfast that is chock full of vitamins D and B-12, which are excellent for supporting brain health. My go-to breakfast consists of a glass of celery juice and egg white bites."
Why it works:
"Your frame of mind is important to your overall health," says Maria—and we couldn't agree more. Do you use your mornings to cultivate a positive mindset?