"He who has a why to live for can bear almost any how."
– Friedrich Nietzsche

Wellness Tip:
Find Your Purpose
Nothing against bling and bottles of bubbles, but there's something better to aim for than the high life. What's that, you ask? Purpose.
When we have a purpose in life, we're not only more fulfilled but also healthier. So, how do you find what gives your life meaning?
Volunteering, exploring your interests, and working against injustices that bother you are all good places to start. Check out these tips to go deeper into it.
P.S. Interestingly, research shows those with a sense of purpose also earn more. So, you don't even have to give up the bubbles. Happy purpose hunting!

Productivity Tip:
Create a Backup Morning Routine
You know that a healthy morning routine makes your day more productive. But what about those days when you just don't have time to carry out all the steps?
That's where it helps to have a short version of your routine already planned out. Think about what you can shorten (e.g., a brief workout or 5-min meditation instead of your usual 20 mins) and the most essential elements that you simply must include.
In other words: how can you get maximum benefits in the shortest amount of time?
When life throws you a curveball (or, uh, you sleep in) you'll have a backup plan. Launch into the short version of your routine without having to think about it. Boom. 👊

Routine Breakdown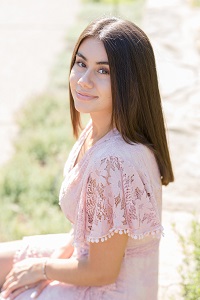 Already an accomplished businesswoman at 19 years of age, Elena Kazas says a slower-paced morning routine gives her peace to start her workdays productively. She:
Wakes at 7-8 am. Immediately makes her bed and makes sure her room is tidy. 
Washes her face and does her skincare routine using her Calithea products.
Sits down with a morning coffee. "I write out my daily tasks for work that need to be accomplished like meetings, emails, social media postings, etc."
Takes a moment to sit outside, pray, and breathe. "This brings me a sense of serenity before my hectic day starts and helps me keep my stress levels down."
Why it works:
"Many people feel you have to get up at 5 am, hit the gym, etc., to have a successful day but that's not the case," says Elena. "I've tried that approach and it doesn't work for me." Elena makes a good point. As we always say, other people's routines can give you ideas and inspiration – but ultimately, it comes down to what works for you!