"True happiness is to enjoy the present, without anxious dependence upon the future, not to amuse ourselves with either hopes or fears but to rest satisfied with what we have, which is sufficient, for he that is so wants nothing."
– Ancient wisdom from Seneca.

Wellness Tip:
Take An Awe Walk
It's no mystery that going for a walk is good for your health. But did you know that doing it with the right mindset can have positive long-term psychological effects?
In a 2020 study, those who took an "awe walk" reported greater joy and less daily distress over time. The idea is simply to allow yourself to be in awe of your surroundings as you walk.
Awe can be described as "a positive emotion elicited when in the presence of vast things not immediately understood". So, when were you last in awe?
Often it only takes a change of perspective. Follow the steps here to give it a try.

Productivity Tip:
Say Your Thoughts Out Loud
Feeling scattered? Here's a way you can focus your stream of thoughts – if you dare to step out of the box. 
Talking out loud to yourself harnesses selective attention, which helps you tune out what's unimportant and focus on what matters. 
It can also motivate you on your goals and help combat self-criticism. Pretty cool, huh?
Here's a method you can try: 
Find a space that's yours

Decide what you want to talk about

Be mindful of how you say it – try addressing yourself by name

Make a habit of it
Don't be shy – give it a go and tell us if it works for you!

Routine Breakdown
Alexa von Tobel, Bestseller Author, Entrepreneur and CEO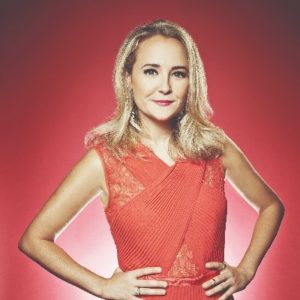 The founder and CEO of LearnVest doesn't waste a moment of her mornings. She:
Wakes between 6-7 am and jumps into a workout – a spin or barre class with her friends or a session on the elliptical where she also checks emails.

Has the same breakfast – greek yoghurt and coffee – to preserve her decision-making power.

Gets to work. "I like to tackle the hardest things first, so I think through my priorities the night before and make sure I have time for my most strategic work."
Why it works:
Working out with friends is good: it

motivates us to work harder

.

Eating the same thing each day is a great strategy for minimizing

decision fatigue

.

Setting priorities the night before means she can start the day focused on what's most important.
"Mental energy is a finite quantity," says Alexa. "My ultimate goal is to create operating systems for myself that allow me to think as little as possible about the silly decisions you can make all day long — like what to eat or where we should meet — so I can focus on making real decisions"
Have you tried limiting your daily decisions yet? What decisions could you cut out?